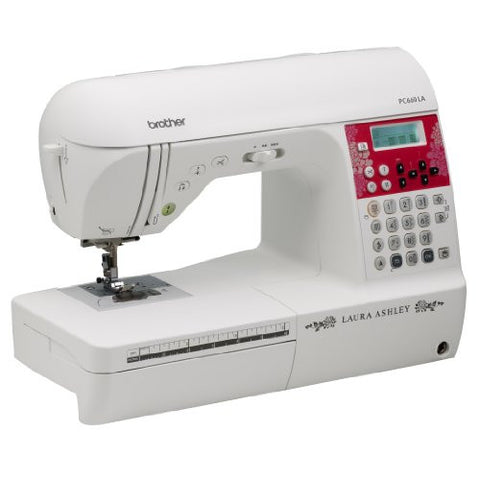 Laura Ashley Limited Edition PC660LA Computerized Sewing & Quilting Machine with 3 built-in sewing fonts
Laura Ashley?? Limited Edition PC660LA Computerized Sewing & Quilting Machine The Laura Ashley?? Limited Edition PC660LA offers outstanding performance in both sewing and quilting. The PC660LA showcases the latest in...

Laura Ashley?? Limited Edition PC660LA Computerized Sewing & Quilting Machine
The Laura Ashley?? Limited Edition PC660LA offers outstanding performance in both sewing and quilting. The PC660LA showcases the latest in technological advancements with almost endless stitch possibilities to accommodate large home d??cor projects, elaborate garment construction, quilting, and typical everyday sewing tasks. The machine boasts an exciting 128 sewing stitches, 10 styles of buttonholes, 3 sewing fonts (each with 55 alphanumeric characters), and the My Custom Stitch Feature, making the stitch possibilities virtually endless. Todayƒ??s sewing and quilting enthusiasts will love putting ƒ??a touch of English in every stitchƒ?? with this Laura Ashley??-inspired sewing machine.
My Custom Stitch and Combine/Mirror Image Stitches




Create personalized stitch patterns and save to one of the machineƒ??s 10 memory pockets for later use. In addition, this machine allows you to combined or create mirror stitches to create your own unique patterns combined stitches can also be repeated for a custom look.
Easy-to-View Back-lit LCD Screen Display
See your stitches and stitch settings clearly displayed on the LCD Screen display.
Professional, Elegant Buttonholes
10 styles of built-in, one-step buttonholes are automatically sized to fit your specific buttons for a true designer finish!
Jam Resistant Quick-Set Drop-in Top Bobbin
The exclusive Brotherƒ?› Quick-Set top-load, drop-in bobbin helps ensure your bobbin stays in place, and helps provide the level of reliable, even stitch quality you need for fine sewing.
Advanced Easy Needle Threading System
Just touch the lever on the side of the machine, and the CX155LA automatically pushes the thread right through the needle.
Easy Stitch Selection and Adjustment with the Touch of a Button
With the touch of a button, select your stitch, and see that stitch youƒ??ve chosen on the convenient LCD display screen.
Variable Speed Control and Start / Stop Button
The stitch speed slide gives you control over how fast or slow you want to sew. Set the slide control from slow to fast to ensure you always sew with safety and accuracy, particularly on intricate details or curves.
Easy-to-See, Super Bright Work Area
The brightly lit sewing area is especially useful when sewing on dark fabrics.
Adjustable Presser Foot Height and Pressure
A must-have feature for quilting! Adjust the presser foot height to allow thicker sections to pass under the foot, ad change the presser foot pressure to align with the feed dog motion for improved delivery of fabric height variations.
| | | |
| --- | --- | --- |
| Free-Motion Stitching | Added Value Package | Large Workspace and Included Wide Table for Large Projects |
| Even novices will find free-motion stitching a breeze with this machine. Slide the free-motion feed dog lever to easily lower the feed dogs and automatically set the tension, allowing you to add beautiful, free-motion embellishments to your projects. | The PC660LA includes 14 specialty sewing and quilting feet to allow you to create custom designs with ease. | Ideal for window curtains and oversized quilts, the large workspace and included wide table gives you the extra space you need to better maneuver your project. |
| | | |
Virtually Limitless Capabilities
The Laura Ashley?? Limited Edition PC660LA has been developed with exciting sewing and quilting features to delight beginner and advanced enthusiasts, including practically limitless stitch options with the Brother?? exclusive My Custom Stitchƒ?› feature, free-motion sewing, and a variety of sewing and quilting accessories, including quilting feet and a wide quilting extension table.
Add the Finishing Touch Youƒ??ve Always Wanted
Impart the ultimate in style and elegance to your creations with the new Laura Ashley?? Limited Edition PC660LA sewing and quilting machine. Create your own unique home d??cor from start to finish with this incredibly elegant machine, designed for those who are looking to let their interior decorating skills shine. The PC660LA includes 135 total stitches that are perfect for all your sewing and quilting projects. Among the included stitches are:
ƒ?› Buttonhole stitches: 10 different stitches, for lightweight, medium weight and heavier weight fabrics
ƒ?› 3 Built-in fonts including lowercase: for basic monogramming
ƒ?› Overcast and zigzag stitches: to help prevent fabric from fraying
ƒ?› Blind hem stitch ƒ?? for virtually invisible hems on curtains and throw blankets

About Brother International Corporation
Brother International Corporation has earned its reputation as a leading supplier of innovative products for home sewing and embroidery enthusiasts. The company is recognized for its high-quality, state-of-the-art machines and accessories, offering ease of use and flexibility at affordable prices. Brother is a wholly owned subsidiary of Brother Industries Ltd.




In the box
ƒ?› PC660LA computerized sewing and quilting machine
ƒ?› Oversized table for larger projects
ƒ?› Hard portable machine cover
ƒ?› Foot Controller
ƒ?› Knee lifter
ƒ?› Accessory bag
ƒ?› Accessory feet:
o Zigzag foot (on machine)
o Buttonhole foot
o Zipper foot
o Button sewing foot
o Overcasting foot
o Blind stitch foot
o Monogramming foot
o Walking foot
o Quilting foot
o Adjustable zipper/piping foot
o Non-stick foot
o Open toer foot
o ?¬ƒ??ƒ?? Quilting (piecing) foot
o Stitch Guide foot
ƒ?› Power cord
ƒ?› English/Spanish operation manual
ƒ?› 25 year limited warranty